The family – Apartment, Garden, Neighborhood – Spotting us in Vienna – More about Vienna

The family
Here is some illustrated text about us, our family, the appartment, and the quarter. Sorry, if my English is somewhat "special" (there was more Latin and Greek than English in my schooltime and I had been teaching those things for thirty one years when I retired in 2003) but I hope you get the idea
Ciao, Lorenz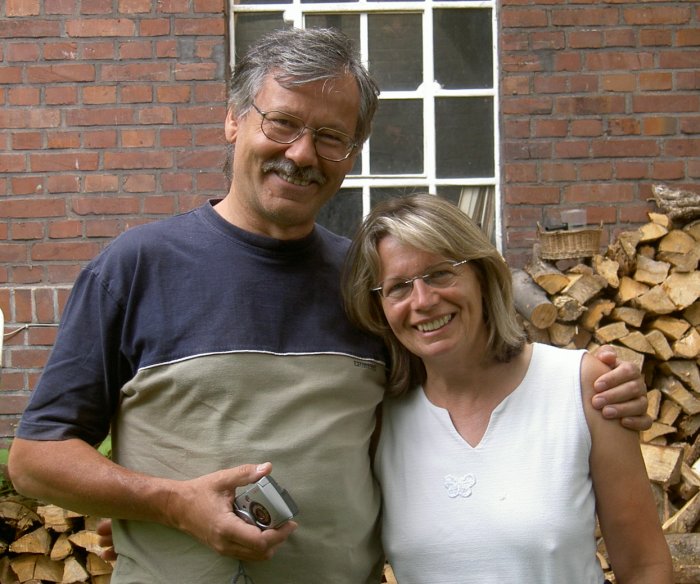 That's us, in full shape, looking on the bright side of life, calling on friends in Cologne (no, it's not the Cathedral what you see in the background). The pretty one is Hedwig, my dear wife since more than 35 years now, the longer one, that's me, Lorenz. Both of us have been Viennese since the sixties and have earned our living for decades by teaching young people how to read, speak and think wisely (Hedwig in French and German, me in Latin and Greek). Hedwig after having tried it hard and partly even successfully at a "Commercial Academy" in nearby Bratislava, joined me in retirement in summer 2009. I restrained my efforts to writing, editing and translating essays on social criticism (www.streifzuege.org, if you understand some German), Hedwig on the contrary is extending her field of activity in a way that makes me dizzy.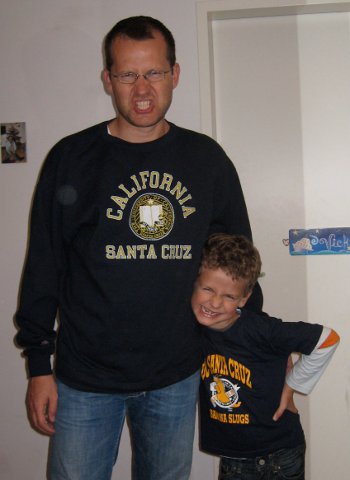 Our grandson Victor teaching his dad (Lorenz jr.) the importance of being cool. Their t-shirts from the campus of Santa Cruz (Junior spent a year there and now is CTO of a major cable provider – whatever that might be) obviously help them a lot. Victor is training hard to become a clone warrior or the like but he fortunately is far too gentle-minded.

Andrea our lovely daughter in law presenting little Emilian (Mili) to his first birthday cake.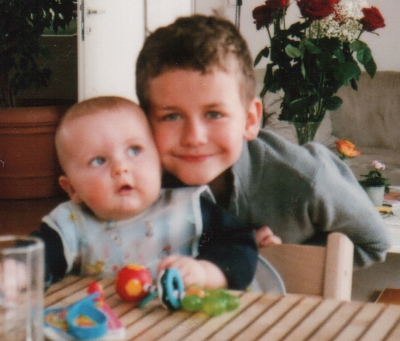 Both our grandsons united: Mili trying to catch a glimpse of Big Brother, who apparently has forgotten how to look cool.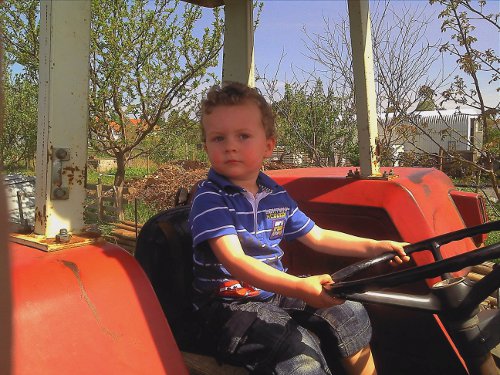 And here the latest update showing how fast time is running: Mili driving our vegetable-farmer's old tractor.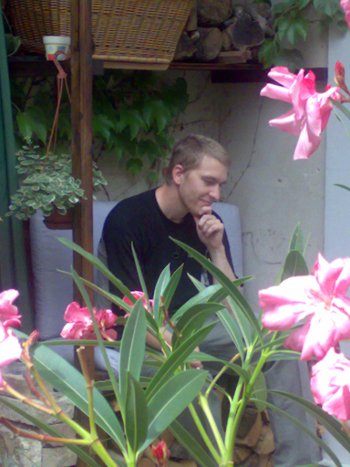 And last but not least Uli, our youngster, meditating behind some romantic aestival oleander blossoms in his parents' garden. He likes this place as it is the nearest spot to the flat were he may smoke.
Junior is working in Munich, but the rest of us are Viennese all day long (although we live in different parts of the city).
Where we actually live (apartment, garden, neighborhood)
The family – Apartment, Garden, Neighborhood – Spotting us in Vienna – More about Vienna
Here we live, cook and eat – is there any English name for such a room? I don't even know a German one. The kitchen part is rather new. It originally was in a small dark roomlet till Hedwig at last promised me to put there a infrared sauna if I accepted a new kitchen in the dining-living-room. So we got a brilliant win-win-situation and fell in love with each other ever more – and went on reconstructing our flat by unanimously ordering a tiled stove to have a cosy spot in cold winter evenings . Well, that's lovely Hedwig at the "cosy spot" in summer. Below behold the kitchen corner, our youngster accidentally calling on us at lunch time, and the dining-table.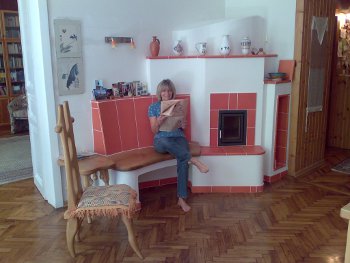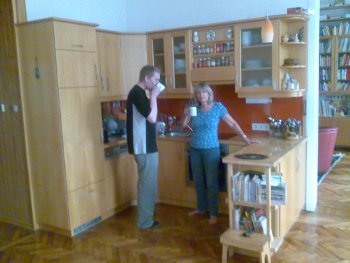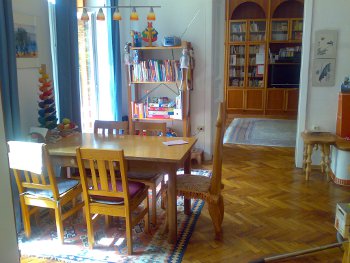 Let's go on to the left side. That's my room. I wish I really had read all these books! I'm doing quite a lot since I've retired from teaching. I at least stopped buying more – eventually not more than three books in a month ;-). There is internet access of course (bring your notebook, we've wi-fi).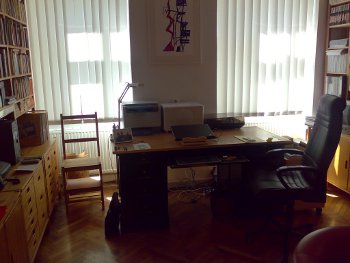 Hedwig's residence is on the opposite side of our ldc room (no, ldc neither says "least developped countries" nor "linguistic data consortium" but simply "living-dining-cooking"). It's quite comfortable and Hedwig isn't just working here but does a lot of "living", too. The door on the left picture leads to the garden, Hedwig's favourite place from spring to autumn.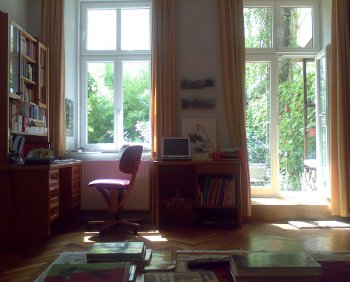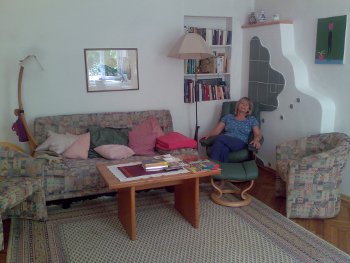 Of course there is a toilet, we also have two (rather small) bathrooms (one of them with my beloved sauna-cabin) and a guest room for friends who call on us. There are no pictures here, but I think you will believe us. I just add a photo of the bedroom. As I'm rather mean in financial regards it was Hedwig who insisted on buying this large precious bed – she has convinced me in the meantime (that's quite usual with us).
Well, just a bad photograph, but it's the proof: We have bikes, and we use them, even in winter (unless it's raining, snowing or storming). There is no better way to move in the city.
Sure we normally don't have them in front of our door but a few steps away in a tiny ugly courtyard we don't like to make a photo of.
Above I mentioned the garden. Here you get some photographs.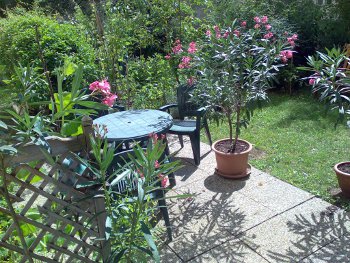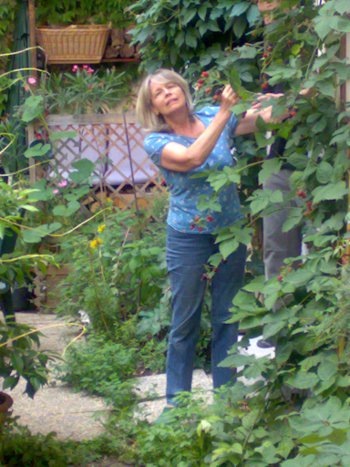 Left to be said: Our appartment is very calm because it's situated amidst a block of houses. In winter we'd wish there was more brightness, but in summer it's bright and – nevertheless – cool.
The district is central, there is plenty of shops and restaurants in the neighbourhood and you may walk to the very center within ten, twenty minutes, much shorter when you take the bikes which are the ideal means of traffic for looking around and for having a trip to the banks, the Isle and the meadows of river Danube. Public traffic is quite well organized, too and only addicts use a car in the city center.
Well, somehow I've got to come to an end. So I'll finally show you some small pictures. On the left side you see three photos showing our house and its hallway, the others stay nameless and arbitrarily chosen, taken from some few sites in our quarter ("Josefstadt", the smallest district of Vienna):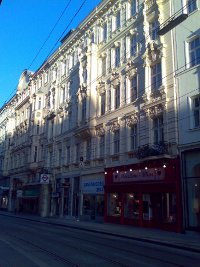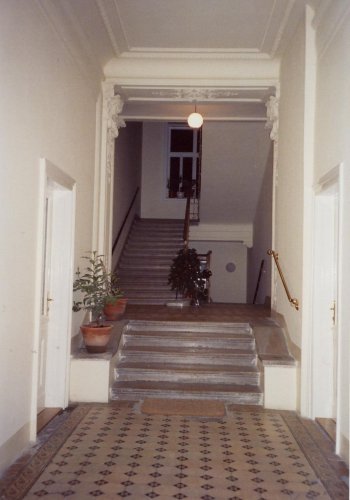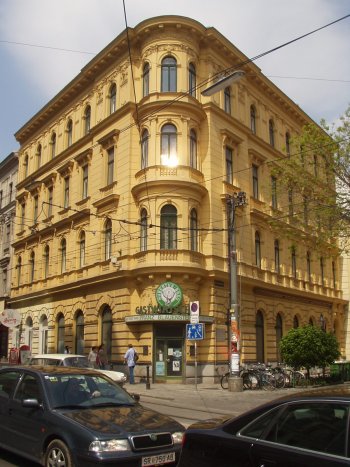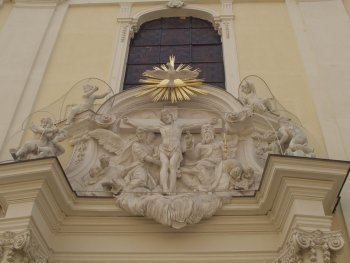 back home
Spotting us in Vienna
The family – Apartment, Garden, Neighborhood – Spotting us in Vienna – More about Vienna